Sinotruk HOWO 8X4 30m3 LPG Tanker Bobtail LPG Transport Truck with flow meter for filling cylinders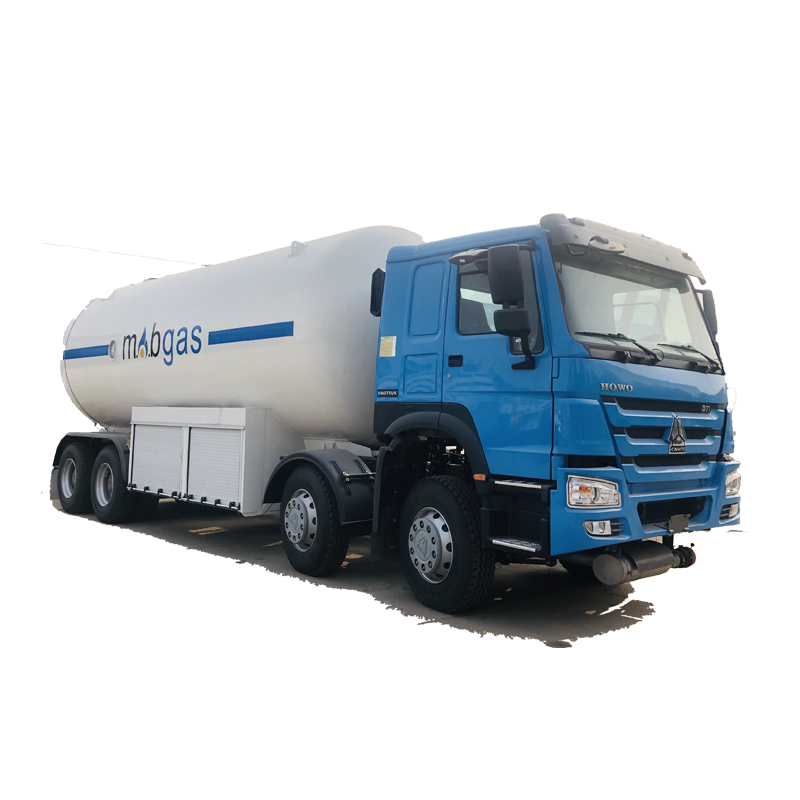 Product Description
1) lpg delivery truck is used to transport or deliver lpg or liquid petroleum gas mobile and supply lpg to lpg stations.We can supply lpg bobtail truck from 2ton to 18ton.
2) Manufacturing standards of lpg delivery truck: GB-150, ASME, U STAMP, CCC, ISO9001 : 2008
3) Optional accessories of plpg delivery truck: ROCHESTER level gauge,flow meter,sunshelter
4) optional equipment oflpg delivery truck:flow meter or computer controled filling machine,chinese lpg pump or corken,blackmer pump.
5). HOWO Truck: 371HP WP Engine, 9 Forward & 1 Reverse Gear, 7 Ton Front Axle & 16*2 Ton Rear Axle.
6). Tank Design: Horizontal cylinder Type, Bullet Tank, with elliptical or hemisphercial dish end.
7). Tank Test: 100% Radio Radiographic Test, Magnetic Power Test, Water Pressure Test, Air Tightness Test.
8). Dispensing System: 2" Hyrdaulic Truck Pump, 2" Flow Meter, 15meters Hose Reel for commercial Fillings.
Specifications
Item No.
Parameters

Overall Dimension

11700*2495*3690 (mm)

Gross Vehicle Weight

31000kg

Curb Weight

14910kg

Wheel Base

1900+4500+1350mm

Cabin

Right Hand Driving, 3 Passengers Allowed, with Air Conditioner

Engine
WD615.47 Diesel Engine, 6 Cylinder in line. Four Stroke, water-cooling, supercharged and mid-cooling,Direct injection

Engine horsepower

371 HP Euro II

Max Driving Speed

90 km/h

Gear Box

10 Forward Gear & 2 Reverse Gear

Tire

12R22.5 Tubeless Tire (12 pieces with one spare)

Tank Capacity
35.5 CBM / 35,500 Liters

Filling Weight

15895kg

Filling Content

Liquefied Petroleum Gas (Propane)

Tank Material

Q345R, 10mm Thickness for Tank Body & 12mmm for End plate.

Standard Equipment

1 Safety Valves,1 Ball floating Level Gauge,
1 Pressure Gauge, 1 Thermometer, 2 Emergency Shut-off Valve, 1 Tool Boxes, Anti-static Grounding Tape, with 1 valve boxes,

Specification

Designed Pressure: 1.61Mpa / 16.1 Bar
Hydraulic Test Pressure: 2.21 Mpa / 22.1 Bar
Air Tightness Pressure: 1.61Mpa / 16.1Bar
Medium Density: 500-590 kg/m3
Working Temperature: under 50 centi-degree
Corrosion Allowance: 1mm

Filling System

Hydraulic Drive 2" Truck Pump.

Liquid Control Flow Meter to Record Filling Volume

LPG Filling Hose for Cylinder
Reference photos