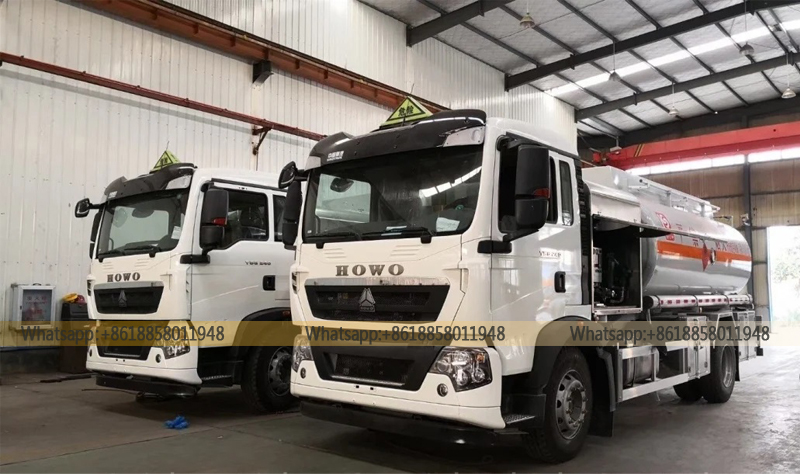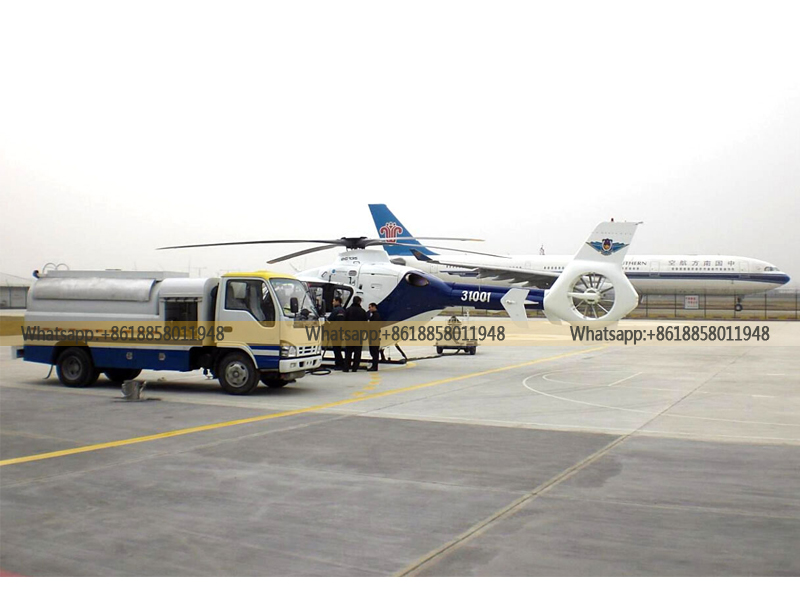 Aviation refueler truck(also called aircraft refueler truck,helicopter refueler truck,fuel dispenser truck,oil bowser truck,off road refueling truck,4X4 aviation refueling truck) is used to transport Jet A,avialtion fuel,fuel,oil,diesel,gasoline,kerosene and so on.
1. Aviation refueler truck body: The tanker material is made of aluminum-magnesium alloy 5083 with advantage of light weight, large volume, corrosion resistance and no pollution and guarantees the quality of oil.
2. Aviation refueler truck: aluminum alloy centrifugal pump, reel filling flow 80 or 300L / min, pipeline pumping flow 700L / min, working pressure is 0.25MPa.
3. Aviation refueler truck flowmeter: 0.2 accuracy, diameter 50 waist wheel flowmeter.
4. filter separator: rated flow 400L / min, rated working pressure 1.0MPa, the maximum allowable pressure difference of 0.15MPa, in line with the requirements of API 1581 3rd edition.
5. automatic reset reel, refueling hose diameter 25 or 38MM, length 15 meters.
6. level gauge: The stainless steel float in the tank and the 10-inch aluminum alloy dial on the left side of the tank can clearly observe the current liquid volume in the tank.
7. operating system: centralized control of independent control room, instrument indication includes pump inlet vacuum gauge, pumping pressure gauge, oil pump tachometer, filter differential pressure gauge, etc. Switch valve operation includes power main switch, lighting switch, emergency stop switch, oil pump adjustment knob, fueling valve, circulating filter valve, sampling valve, subsea valve control combination switch, etc.
Product Description
1. Purpose: It used for helicopter refueling and mobile transporting aviation kerosene.
2. Main parts: Fuel pump, flow meter and filling gun etc.
3. Advantage: Our helicopter refueling truck have most competitive price.
Product Specification
Condition
New condition/Left hand drive/4x2
Chassis
Brand
Dongfeng
Curb weight(kg)
8305 kg
Loading weight(kg)
10000 kg
Wheelbase(mm)
4800/5000 mm
Front/Rear axle loading weight(kg)
6000/1000 kg
Front/Rear overhang(mm)
1430/2370 mm
Approach/Departure angle(°)
18/12
Max. driving speed(km/h)
80 km/h
Clutch
Reinforced diaphragm clutch
Brakes
Service brake: dual circuit compressed air brake.
Parking brake:(emergency brake): spring energy, compressed air operating on rear wheels
Auxiliary brake: engine exhaust valve brake
Steering Gear
Power steering, hydraulic steering with power assistance
Tire
Quantity
10pcs with one spare tire
Specifications
10.00R20
Fuel tank volume(L)
400 L
Transmission
Manual type, 8 Forwards and 2 reverse
Steering
Power steering, hydraulic steering with power assistance
Cab
It can accommodate three people, With Air conditioner
Engine
Brand
Dongfeng Cummins
Model
B190 33
Fuel type
Diesel
Displacement(ml)
5900 ml
Power(kw)
140 kw
Horsepower(HP)
190 HP
Cylinder number
6 pcs
Emission standard
Euro 3
Upper & Equipment
Fuel tank
Capacity(cbm)
15.0 cbm
Tank material
Aluminium alloy
Thickness(mm)
5.0 mm
Compartment quantity(pcs)
1 pcs
Filling medium
Aviation kerosene
Fuel pump
Quantity(pcs)
1 pcs
Model
China local brand
Notes
1, Aluminium alloy safety valve 1 pc
2, Mechanical type Ladder
3, Filter system including
4, Control system
Remarks
Customized LOGO design as per customer needs!